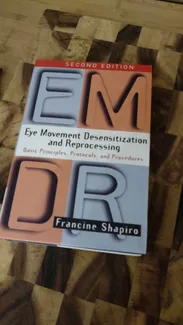 Eye Movement Desensitization and Reprocessing (EMDR) therapy is an extensively researched, effective psychotherapy method proven to help people recover from trauma and other distressing life experiences, including PTSD, anxiety, depression, and panic disorders.
EMDR is a highly structured approach and it does not require talking in detail about the distressing issue or completing homework between sessions. EMDR therapy accesses the brain in order to reprocess distressing memories and experiences. It is also used to eliminate the harmful thoughts and beliefs based on the experiences address.
EMDR therapy is designed to resolve unprocessed traumatic memories in the brain. For many clients, EMDR therapy can be completed in fewer sessions than other psychotherapies.

You can read more about EMDR here.